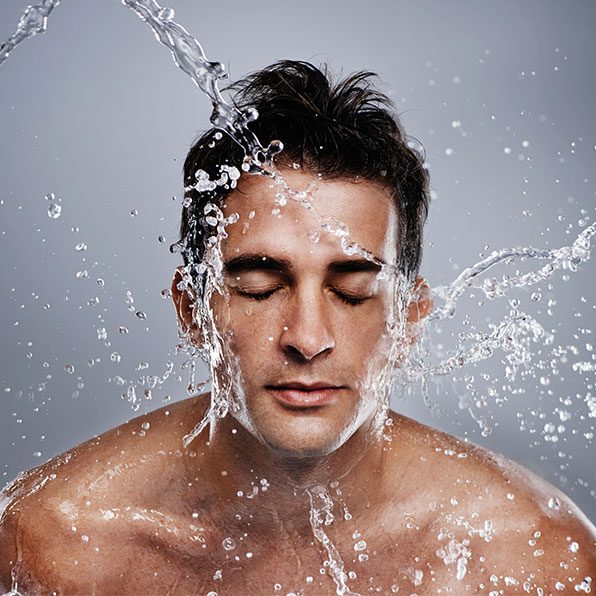 Many women recognise the importance of a skin check-in coupled with a spot of pampering. It's why facials are synonymous with female clientele, but it's, in fact, all genders that can benefit.

An MOT for the skin, facials are about more than self-indulgence. These tailor-made treatments offer a full-spectrum skin overhaul, assessing & correcting clogged pores, moisture levels, skin damage & more.

Whilst male salon treatments have risen in popularity, with men making up 47% of spa-goers, many men have yet to unlock the benefits of a facial.

Alongside our popular waxing options, we appreciate the need for male-orientated treatments, which is why we offer manicures, massages and pedicures designed specifically for men, such as our Business Class Men's Manicure.

We understand that you need to look smart, but why not indulge in a little pampering bliss during the process. Our nail shaping service keeps your hands tidy whilst including a soothing hand massage for a relaxing touch.

However, we also recognise the benefits of facials for male skin. It's why we're proud to offer a selection of complexion indulging treatments for men at our 5th Avenue boutiques, to soothe, and strengthen skin protecting against daily damage and ageing.
Men's skin needs vary from women's. With typically thicker and oilier skin, male-oriented facials take the requirements of men's skin into consideration. Working to restore balance and reduce the damage caused by frequent shaving, they are an important part of maintaining a healthy complexion. Here are 5 benefits of a men's facial:
1. Stress Busting
Facials can facilitate the de-stress needed to reset. Whether your calendar's been jam-packed with family commitments or it's been a busy week at the office, stepping away from the busyness of life is essential for a healthy mind.

All of our facials are designed to allow you to lie back and unwind. Relax whilst trained therapists address your skin needs, whilst you work on doing absolutely nothing.

It's the self-care needed to allow you to return to your routine with the clarity of mind to live your days carefree.
2. Younger Skin
Environmental pollutants, UV rays and time. These factors all contribute to the visible signs of ageing such as fine lines, wrinkles and age spots.

Whilst ageing is inevitable, a great facial will allow you to exude youthfulness by slowing down and reversing the telltale signs.

YonKa's Age Defence treatment is designed with mature skin in mind, working to refresh the skin with a youthful radiance. Concentrated natural agents lift and firm the skin, targetting wrinkles and clogged pores to leave your complexion clear and energised.
3. Smoother Shave
The secret to your smoothest, closest shave? A facial.

Whilst a high-quality shave gel and razor are part of the equation too, a facial paves the way for effortless blade gliding. Eradicating inflammation and leaving skin feeling smooth, shaving becomes a breeze.

Our Hydrafacial treatments include a skin resurfacing peel to leave skin soft and supple. Debris is removed from pores and skin is saturated with antioxidants and peptides for a healthy, hydrated complexion. The result is clean and clear skin primed for shaving, reducing the likelihood of razor burn too.
4. Clearer Complexion
Higher levels of testosterone mean higher oil production. It's why men's skin is often oilier than females, running the risk of clogged pores that lead to spots and inflammation.

Facials dig deep into pores for a thorough clean. Bacteria is removed and oil production is regulated for ultimate skin confidence.

YonKa's Skin Fitness for Men facial eliminates dead cells and removes blackheads for clear and balanced skin. Alongside exfoliation, face, neck and jawline massage works to reshape and restructure for a sharp, clean-cut finish.
5. Enhances Robustness
Dull, tired skin is the result of free radical damage. It's these daily environmental stressors which cause lacklustre skin that's weakened and more susceptible to further damage.

Rehydrating with essential moisture, facials re-arm your defences, protecting your complexion at a cellular level against the elements for stronger, more robust skin.

YonKa's Power Moist facial is designed to drench your skin with essential moisture, defending you against the signs of ageing for a complexion reawakening. You're left reinvigorated and ready to face the day with skin that's stronger than ever.
There are plenty of reasons to gift yourself a facial. It's not only beneficial for skin but for your mind too.

If you're really looking to release the tension then complement your facial with a massage. Choose from hot stone therapy or a de-stress massage to really melt away the tension, leaving you feeling a little lighter, and taller.

Indulge solo or treat your partner too by booking into our couples treatment room. Our comprehensive range of men's facials are tailored to target skin issues that are specific to male skin. No matter your gender, skin type or desired results, we have a treatment to suit.