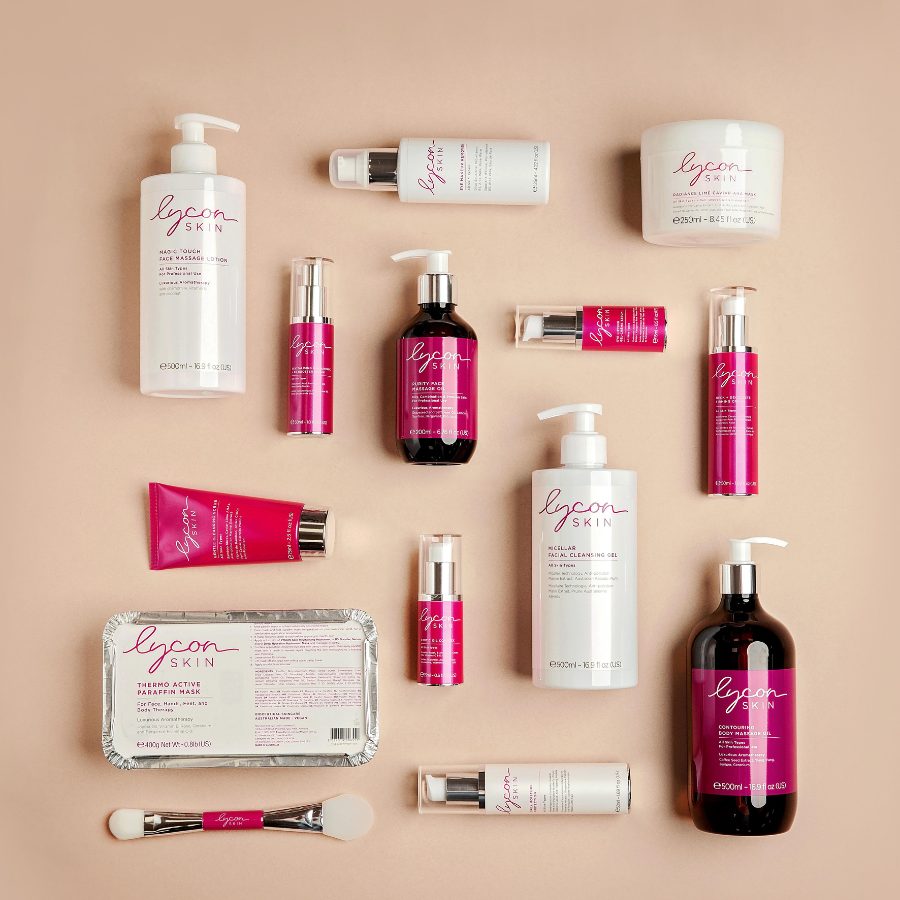 Experience the magic of our facial treatment and enjoy a youthful complexion.
LYCON Skin is a user-friendly and adaptable skincare range that is very easy to incorporate into professional treatments as well as for home care, due to its streamlined number of products.
Even with its simplicity, LYCON Skin can look after all skin types effectively with complete confidence, allowing everyone to enjoy these result-orientated products and be delighted with their results.
The home care range is easy to adapt into your daily routine as it suits all skin types due to the LYCON Skin Adaptive Skin Science Technology, which intelligently responds to multiple skin concerns across multiple skin types.
If you're looking for home aftercare then feel free to enhance our deal with our optional extras which include:
-Magic Puff (Facial Cleansing Puff) €12 Extra
-Lycon Eye Makeup Remover (A creamy gel cleanser with Rose Water and Olive Squalane to rapidly remove all traces of eye makeup, mascara and impurities, while being super gentle on the delicate skin around the eyes.) €27 Extra
-Micellar Facial Cleansing Gel (A lightly foaming cleanser which gently and effectively removes makeup, excess oils, urban pollution and grime using smart micellar and EXO-P™ technology.) €27 Extra
-Gentle Cleansing Scrub (A professional creamy facial scrub to gently exfoliate, cleanse and detoxify impurities, including makeup.) €43 Extra
-Exotic Oil Complex (An exotic, lightweight, deeply hydrating and reparative oil blend with revitalising Rosehip, Argan and Amazonian Cacay Oils, Vitamins C and E and Co-enzyme Q10, that work together to combat the effects of free radical damage and pollution. ) €49 Extra
-Eye Lifting Gel-Creme Serum (A multi-functional gel-crème serum for the eye area. Fortified with a premium blend of Australian Kangaroo Paw Flower Extract, wrinkle-reducing Peptide, energizing Microalgae Extract, and triple-weight Hyaluronic Acid Complex.) €49 Extra
-Lycon Time Out Cream (An intelligently formulated night cream that effectively unlocks anti-ageing reparative pathways with restorative dual weight Hyaluronic Acid, Sunflower Ceramides, Australian Kakadu Plum Extract, Vitamin E, plus the LYCON Skin signature anti-ageing powerhouse Yeast Beta-Glucan and a wrinkle reducing Peptide.) €53 Extra
-Multi Protection Day Cream SPF15 (Suitable for all skin types, A precisely balanced multi-protective day cream with the anti-ageing powerhouse blend of LYCON Skin's signature Yeast Beta-Glucan.) €53 Extra
-Lycon Daily Moisture Protection(An advanced day cream that instantly hydrates, soothes, nourishes and protects the skin with the antioxidant power of Kakadu Plum, Vitamins C and E, plus Co-enzyme Q10 to fight free radical damage.) €49 Extra
-Lycon Neck + Decollete Firming Cream (A  luxurious neck and décolleté cream, rich in nourishing botanicals, including Macadamia Nut Oil, Algae Extract, Jojoba Esters, Pro-Vitamin B5 and the LYCON Skin signature anti-ageing powerhouse Yeast Beta-Glucan. ) €49 Extra
-Lycon Revitalising Hyaluronic + B5 Booster Serum (This intensive lightweight serum provides an instant moisture surge to plump skin from deep within. With Pro-Vitamin B5 and Yeast Beta-Glucan, it effectively strengthens and helps protect the skin against environmental damage, helping to delay the visible signs of ageing.) €57 Extra
-Lycon Superfruits 3 Minute Detox Mask (This gentle high performance, multi-action purifying clay mask contains antioxidant-rich Australian botanicals to beautify and detox the skin by absorbing impurities, without drying the skin's surface. ) €31 Extra
-Radiance Lime Caviar AHA Mask (Suitable for all skin types, including sensitive, dull, unevenly toned or blemish-prone skin, With exotic Australian Lime Caviar extract.) €31 Extra
-Deep Hydration Hyaluronic Mask (A supercharged rejuvenating and nutritive infusion mask, that deeply hydrates and plumps the skin, visibly reducing fine lines and wrinkles, whilst providing long lasting results that improve over time. ) €31 Extra
-Lycon Skin Face Mask Trio (The LYCON Skin mask collection provides all that is needed to meet a multitude of daily challenges. ) €79 Extra