Finding The Right Pedicure to Treat Your Feet
Beauty tips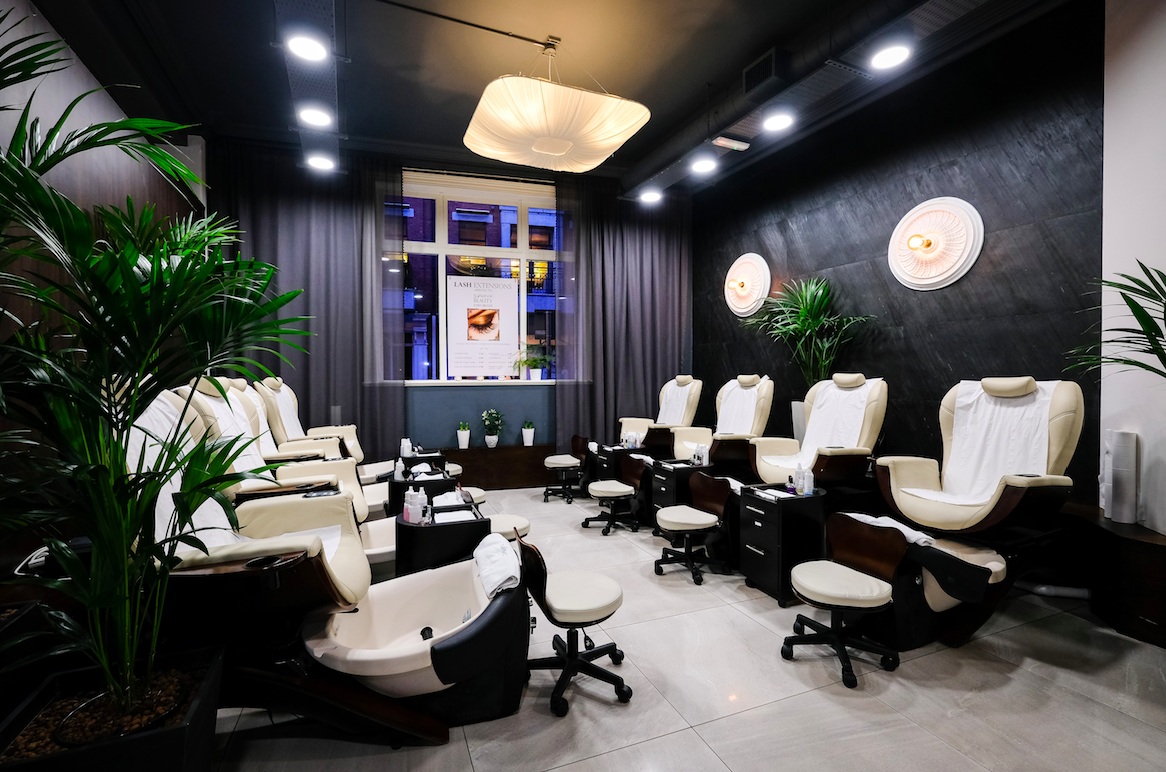 The phrase 'take the weight off' couldn't be truer of a pedicure. They're about more than a lick of polish, allowing you to step a little lighter. Designed to breathe life back into tired feet, pedicures re-energise for healthier, happier soles.
What is a Pedicure?
Regular pedicures are an essential component of any busy women's self-care regime. A good pedicure will not only leave your feet feeling rejuvenated, but will leave your soles visibly nourished.

It's through a combination of foot massages, scrubs and creams that feet are brought back to life. Buffing away dead skin, softening hardened heels and soothing away the pain, pedicures address common foot ailments.
Finding The Right Pedicure For Your Feet
Identifying your needs makes finding the right pedicure for your feet a breeze. At 5th Avenue, we believe feet should be treated no matter your time constraints or requirements. It's why we've ensured our treatment menu encompasses a wide range of pedicures allowing you to choose from our maintenance pedis all the way up to our more luxurious packages.
Pedicure Maintenance
Ideal for those who:
Have little time
Want a quick refresh
Get regular pedicures
When it comes to keeping feet well-groomed scheduling a regular maintenance pedicure will keep your feet looking and feeling healthy. These pedi types are often well suited for those with little time to spare. Lasting typically less than an hour it's the perfect lunchtime check-in or post-work treat.

At 5th Avenue, we offer our 30-minute Mini Pedicure which includes a foot bath, nail maintenance and polish for a quick refresh. If you have a little extra time then our signature 45-minute 5th Avenue Pedicure maintains flawless toes and feet all year round. Incorporating a Jacuzzi bath, cuticle work, hard skin removal, exfoliation and protectant lotion for repaired and strengthened feet, finishing with a polish of your choice.
Indulge, Restore & Rejuvenate
Ideal for those who:
Have had a break from pedicures
Feet that need extra TLC
Are looking for added indulgence
If it's been a while since you treated your feet we advise choosing a more comprehensive pedicure that's designed to restore softness, soothe soles and pamper.

Our Coconut, Mojito Mint and Spa Orange Pedicures offer the perfect blend of indulgence and foot care. All include sumptuous soaks and scrubs, with the varying aromas, followed by detailed hard skin softening, cuticle removal and a lotion massage for the perfect finish.

The Special Occasion Pedicure
Ideal for those who:
Have a big event upcoming
Are looking for a complete VIP experience
Want to inject some glitz and glam into their treatment
If you're getting ready to mark a big event, a special occasion pedi pulls out all the stops to leave your feet glowing. Whether it's a milestone birthday or you're preparing to welcome a little one into your life, your feet deserve the utmost care and attention.

At 5th Avenue, our VIP Pedicure preps your feet for the big day. Feet are bathed in a luxurious honey and milk soak then the toes are exfoliated using our house-blended sea salt scrub. Later, legs are wrapped in an illuminating almond mask by CND to hydrate and smoothe the skin. Further enhanced with heated boots to infuse the mask deep into the skin followed by a light almond lotion massage.
True indulgence doesn't end there. Our Lycon Pedicure uses natural vitamins, botanical extracts, Hyaluronic Acid, Fruit AHAs and Shea Butter for an intensely hydrating and nourishing treatment. We also offer a Collagen Pedicure that nourishes with argan oil and collagen-rich emulsion loaded socks, enhanced with a warming mitt for a fully fortifying experience.

If you're all about the glitz and glamour, choose between unicorn glimmer or golden glimmer in our Voesh Glimmer pedicure option. The 5 step pedi includes a soak, exfoliation, cooling gel & mask, finishing with a massage butter.
Mother & Daughter Time
Ideal for those who:
Are expecting
Want to treat their little one
Enjoy some mother-daughter bonding time.
If you're expecting allow us to tend to your aching and swollen feet with our specially tailored Mommy-to-Be Pedicure. Scrubs, masks and towel wraps work to stimulate circulation to revive your tired feet to give you a little extra comfort in the lead up to the new arrival.

Why not treat your little girl whilst you're here with our gentle Princess in Paradise Pedicure designed for younger feet. Choose a pedicure for yourself and book yourself in too to enjoy a little mother-daughter bonding time.
Booking You Perfect Pedicure
The secret behind finding the right pedicure is the ability to tailor and customise a treatment to your individual requirements. Whether it's to enhance your soles with a collagen dense infusion or to upgrade your polish to a long-wearing finish. All our pedis can be upgraded, with extras including CND Shellac, Vinylux or E.Mi/ The Manicure gel polishes and a 10-minute massage.

So whether you're a CEO on the go or a bride to be, our variety of pedicures offer a range of treatment options. From a quick refresh to a more lavish affair, our selection of 10 pedicures is sure to suit your needs.

Get in touch today to find out more about our range of pedicures and to book your treatment in today.